A few years back, a dear friend called me at work.
"Sean died." WHUT? What happened? omgomgomgomgomgomg. Nonononononono.
Look at the clock. 🕰️ It's 1:58pm. I have a scheduled sales call in 2 minutes.
(F*ck! Try n WHUT? What happened? omgomgomgomgomgomg. Nonononononono. nds. I can't cry right now. I need to be ON. WTF. Sean is my age! No time to process. Why didn't I call him recently? Must get through this call. WTF. OMG.)
2pm. Wipe away that tear. Smile. "
Hi! It's so good to see you.....doing good. Doing great. How are you?...."
No time to process. Must keep moving.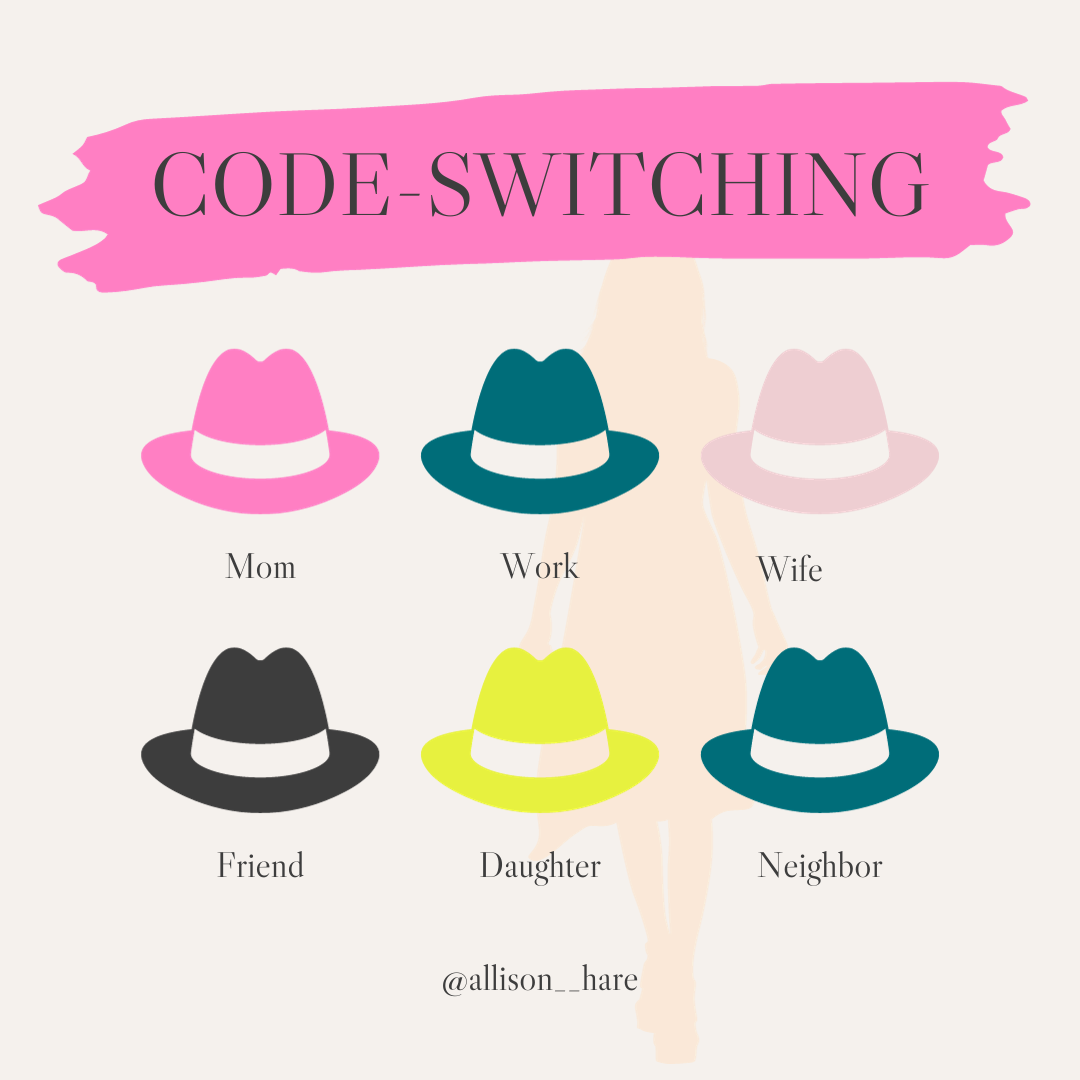 Do you find yourself code-switching all day at work?
Work meeting. Parent teacher conference call. Friend check-in. Check LI/FB/IG. breathe. Work meeting. 30 minute lunch - maybe catch up on emails. Work meeting. Therapy appt. Consult. Work meeting. Mom calls. Follow-up. Paperwork. LI/FB/IG. Check in with husband. Porn site (jkjk - oh good - you're still reading). Work call. One last call. Wait - I've got some more emails and Slacks and texts to return. Oops, gotta run. Pick up the kids.
Boss hat. Work hat. Friend hat. Confidante hat. Spouse hat. Parent hat. You hat. Employee hat. Neighbor hat. Citizen hat. Daughter hat. Lotta hats. 🎩 🧢 👒
Switch - switch - switch - all day like a game of cups. Lather. Rinse. Repeat.
Sound familiar?
Code-switching or shifting between operating modes quickly is something we've been conditioned to do. It's part of life - but it also makes me wonder if there is a way to make space when you need it...
...without a catastrophic life event where you don't feel guilty taking a beat.
What would it be like if you never had to worry about being "on" or "off?" You could appear as-is?
And not apologize for a damn thing.
If you are a code-switcher, too - you are NOT alone. ❤️ And it's no wonder why you're tired and depleted.
And speaking of not being alone, join me for my solo episode of Late Learner Podcast.
LISTEN: EP198: IT'S MY BIRTHDAY AND HUGE LIFE UPDATES
Thank you for your kind feedback on this one. The ADHD diagnosis has been a doozy. 💜💜💜
xo,
Allison
PS. I'm putting together a group of working moms 💪 to help them have the energy⚡️ , time ⏰ , and space 🪐 for what matters most over the next 3 months. If that sounds like you, drop me a note here or hit reply to the email and we'll chat.
PPS. Girl, you know it's TRUE. So so crazy!
PPPS. In case you needed a reminder to TURN IT UP.